Emily Hume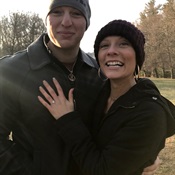 Story: David and Emily had planned to take a trip to Mount Mitchell to celebrate both Christmas and New Years. On the ride to the mountains, David surprised Emily with Christmas tour tickets to the Biltmore (Background: Emily has been wanting to visit the property since she was a little girl). Thus, she was over the moon! Fast-forward to Saturday, December 30th-- Nathan and Katelyn Fitts, David, and Emily spent the day touring the grounds of the Biltmore, wine tasting, and bearing the cold. The group had finally reached the top of the hill, creating the perfect backdrop of the rolling mountain landscape and the estate. Just as sunset was approaching, David asked to take a picture, then proceeded to get on one knee and give Emily her real Christmas present-- a lifetime with him.
Venue: Rep Express - catering & events
URL: https://www.bettergreenvillecatering.com
Location: NC
Alaina R. Dettorre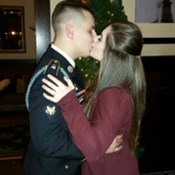 Story: I met my handsome fiancé 4 months before he was set to be stationed in Fort Wainwright, Alaska for 3 years (we are both from New Jersey). To both of our surprise, we fell deeply and madly in love during that short time and decided that distance could not change that. Even without any idea of when he would be returning home to visit, we decided it would be well worth the wait. We faced many obstacles as individuals and as a couple during this time, as him being an active duty army infantryman - there is always a worry about deployment or not getting leave to come home to visit. The first year he was away, he was unable to visit while I was busy with nursing school. 12 months apart left us both missing each other dearly but it only brought us that much closer. My fiancé Brian ended up surprising me for Christmas! He got my whole family in on it and flew home to celebrate with everyone and propose! On December 22, 2016 he got down on one knee and asked me to marry him while out to dinner with both of our families. It was such an amazing experience to share with all of our supportive and loving family. The love we have is something that comes once in a lifetime. Love does not know what distance is and it never will.
Venue: The Merion, Skylight Ballroom
URL: http://www.themerion.com/
Location: NJ, US
Daniel Wattick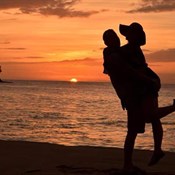 Story: Absolutely one for the story books. My fiance works in the bridal industry she sells wedding dresses for a living. She was the employee of the year from her small bridal shop. The lovely couple ownership gave them an employee of the year incentive which was in all expensive paid Caribbean trip for 5 days. I have been with my fiance for almost 6 years this was absolutely the spot to do it. We went to sandals St. Lucia all-expense-paid it was like a fantasy. I had to propose.
Venue: Boettcher Mansion
URL: https://www.worldclassweddingvenues.com/venue-display/vid/8357
Location: CO, US
Kylee Traffie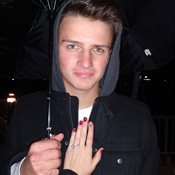 Story: It was just an average Sunday, we spent the day together, then went out to dinner. After we left the restaurant he asked if I wanted to go for a walk around the Mill Pond, and I agreed to because I love walking around the Mill pond. It was a rainy, cold November night, so no one was around. We walked around for awhile, then he stopped in the center and was telling me how much he loves me and everything, then he used my full name and asked me to marry him and I was so excited I just started hugging him. He was like "you gotta put the ring on," so I put it on, it it's absolutely stunning.
Venue: Crowne Plaza Hotel
URL: https://www.worldclassweddingvenues.com/venue-display/vid/10752
Location: MI
Danielle Bieksha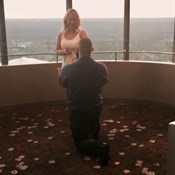 Story: Jay and I have been dating for about 4 years. After the second year we started talking about getting engaged. He asked me to send him pictures of rings I liked around September 2016. For my birthday in February 2017 he surprised me with a Michele watch I wanted for over 10 years... I was so excited but at the same one surprised he spent that kind of money on a watch when he was saving for a ring.... then in June 2017 we went to the jewelry store and I picked out the center stone and band style, he said we were just getting ideas in person so I still didn't know when he would be popping there question. For 4th of July weekend we took a plane trip to Atlanta, where he was born. Before leaving for this trip I told him I wanted to leave my Michele watch at home because I was nervous flying with a valuable item. He insisted I wore it there, so I did. 3 days into our trip we went to The Sundial restaurant for a beautiful dinner and this is when he proposed! I was texting my cousin a picture of the view from 72 stories high and when I turned around he was on one knee. I was completely shocked and found out later he rushed to have the ring made in time for the trip and actually had it on him the entire plane ride and every where we went the first 3 days with out me knowing! (And here I was worried about bringing my watch!) I definitely wasn't expecting it and it was very exciting. We have spent the past 6 months planning our upcoming wedding and I couldn't be happier to be spending the rest of my life with him.
Venue: The Buttonwood Manor Banquets And Catering
URL: https://www.worldclassweddingvenues.com/venue-display/vid/16311
Location: NJ
Cody Morris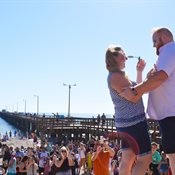 Story: Our story begins with the fact that Hailey is not an easy person to surprise, and Cody is not an easy person to hide secrets. He loves giving gifts so much, he usually gets to excited to let them remain a secret. A week previously, Cody told Hailey that his aunt was to be in town, and he wanted to meet her for lunch. Hailey hadn't met her before, and Cody was really looking forward to it.Saturday morning came...It was a really baddd week for Hailey- work was hard, and emotionally exhausting- the last thing she wanted was to get dressed and find the energy to be happy to see someone. Cody woke her up in the morning, (far too early) with breakfast in bed. After breakfast, she promptly fell right back to sleep. Cody woke her up at noon, told her to get dressed- to which she whines about- Then actually helps her get dressed.They got in the car, and head to Avila beach. When they met up with Cody's aunt, they have a very quick drink and Cody's Aunt suggested taking a picture since it was such a beautiful day. Cody leads Hailey out on to the stone wall right next to the pier to take a picture. At that point, Hailey looks around to find out where Cody's Aunt had gone, and saw a friend of hers, with a video camera. Confused, she looked back at Cody and saw him getting down on one knee. She heared music start to play. The song was "Perfect Storm" by Brad Paisley. The song was Special to Hailey and Cody, as it was one that reminded Cody of Hailey early on in their relationship. Hailey had always thought she would be a calm, cool and collected person when she would be proposed to. Boy was she wrong! Blubbering like a baby, Cody asked her to marry him, and all she could say was "you surprised me!?"It was at that time that she heard clapping and cheering coming from the beach down below. She turned to look, and saw about 100 of her closest family and friends! Cody had invited all these people to witness their engagement. After hugs and kisses from all the people that came to be with them on that special day, they went down to the banquet hall that Cody had rented ahead of time to celebrate.
Venue: Unknown
URL: Unknown
Location: CA, US
Darenise Canady
Story: Kind of a funny story, my boyfriend planned on asking me the next day after my parents came in to town from Milwaukee, but for some reason he got it in his head that I might say no so, he came up to the place where my sisters and I were having lunch after coming from the gym. So in my sweaty gym clothes and in front of my sisters and strangers he asked me. I said yes but this sweet guy in a bundle of nerves forgot the ring at home. So here I am in front of these strangers and my sisters and my guy had nothing to seal the deal with. LOL So the next day we arranged for my parents and his parents to have dinner together and as he was starting to ask me again he told his mother "mom you may want to get your phone out for this" she said "why" he said "mom just get your phone out" she says "why" again, so he says "forget it mom" and he started to ask me. She jumped up right as the ring come out and says "WAIT, LET ME GET MY PHONE ". The poor guy was so flustered he forgot what he was going to say. But I helped him along and just said "YES". That night though while we were alone he told me all the wonderful things he wanted to say to me at the dinner, he didn't have to though, I could see it all in his eyes.
Venue: Sunset Gardens
URL: https://www.worldclassweddingvenues.com/venue-display/vid/8652
Location: NV, US
Lauren Kinter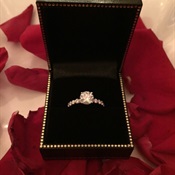 Story: My fiancé and I have been together for 7 years, all starting when I was 17 and he was 19 going on 20. We first met through MySpace, which was obviously popular at the time, and from there we just kept talking. Then one night he came to my house and we sat talked until 4 in the morning and the rest is history. Fast forward 6 years, through multiple hard times and some of the greatest times, he surprised me with a trip to Disney World (he had me convinced we were going on a trip to Boston); I found this all out once we got to the airport. Once in Disney World, we spent the first few days going throughout the parks and then on June 8th we went to dinner at Cinderella's Castle. We got all dressed up as it was our anniversary dinner (our actual anniversary is April 8th). So once we finished dinner and we're getting ready for dessert, the music started changing signaling something was soon to happen. That was when I saw our waitress coming towards me with a white plate and a cover on top. She sat the plate in front of me and took the cover off and there was Cinderella's glass slipper on the plate with rose petals. I then look to him and as he held my hand, after I asked what's going in here, he looked at me and said "We've been together for 6 years..." and that's all I heard because I completely lost it. The funniest thing that happened during that time was that my ring didn't fit because I jammed my knuckle and my ring ended up being too small but it has since been fixed and we are set to be married on Saint Patrick's Day (March 17th) this year. It was the best time of my life and next month will be even better!😍
Venue: Brigalias
URL: http://www.brigalias.com/
Location: NJ, US
Kendal Phillips
Story: It was a Monday, my WORST day at work every week. I'm in meeting after meeting and I'm always getting home late. For some reason my coworker insisted that we were leaving at 5 o'clock that day, she "had somewhere to be" and encouraged me to leave too. I walked into my apartment around 5:25 pm and saw all of the downstairs furniture moved. There was a path made up of rose petals and playing cards leading from the door to the dining room table. On the table there was a note that read, "I don't need 52 reasons, I only need one. Meet me where we first met. Hint: the stadium"Back-story: I've worked at the same minor-league baseball stadium part-time since I was 15 years old. Alex, my fiancé, started working there full-time 4 years ago. We are both in the production department so yes; we're the crazy people on the field making you do the chicken dance during 7th inning stretch. It took us about 2 years of being friends to realize how perfect we were for each other. I contemplated changing my clothes and fixing my make-up but decided to jump in my car and race to the stadium (we only live 5 minutes away). Rose petals and playing cards led me into the box office (I was shaking), onto the elevator and into a skybox suite where our song was playing, pictures of us were displayed on the TVs and Alex was standing with a BEAUTIFUL ring, champagne and King and Ace playing cards (K&A) on the table.He wants me on his team forever and I said yes! At 6:30 most of our family and friends arrived for an engagement party. It was perfect.
Venue: Stone Mill Inn
URL: https://www.worldclassweddingvenues.com/venue-display/vid/16307
Location: PA, US
Dalene Collins
Story: I have know this man for a long time we were together for a few years and than he left and moved to another state. I had a child with this man and he didn't get to meet her til she was 20 years old. Well long story short 28 years later we are now back together and we are still in love with each other more than you can know. I love this man and I will always love this man. I just wish it didn't take so long for us to get back together. I hope that every one has a love story as wonderful as mine has turned out. Thank you.
Venue: Unknown
URL: Unknown
Location: PA, US